Bob dylan - the witmark demos: 1962-1964 - Songs | The Official Bob Dylan Site
Connect your Spotify account to your account and scrobble everything you listen to, from any Spotify app on any device or platform.
Sunday, December 17, 2017 at 0830 CEST

Dylan related
1 - Bob Dylan Trouble No More (2017) A Musical Film Red Bank, NJ Jan 18 - (Count Basie Theatre) from Jonathan Nussbaum
2 - Bob Dylan's first visit to the UK, London (The Coldest Winter - December 17, 1962 ?) - (Need Some Fun) from Ugur Oral
3 - Storm Dylan will be blowin' in the wind: Britain set for wet and wild Christmas - (Daily Mail) from Guillaume Will Petit

Other
4 - Dire Straits Rock Hall Reunion Comes Down to Mark Knopfler - (Ultimate Classic Rock) from Steve Lockwood
5 - Bob Seidemann, photographer of Grateful Dead and Janis Joplin, dies at 75 - (Washington Post) from Mark Lind-Hanson
6 - Fairytale Of New York: 30 years of the song that stole Christmas - (Sky News) from Steve Lockwood

Audio/Video
7 - December 17: The Beatles' Third Christmas Record 1965 - (Born To Listen) from Hallgeir Olsen
8 - The Dylan Hour: Streams live every Sunday, 11am - noon Pacific Daylight Time. Today: Bob In Winter - (KCSN) from Lisa Finnie
9 - Bob Dylan - Sugar Baby 2004 - (YouTube) from Steve Lockwood
10 - 10 Great Cover versions (videos & spotify) - (Born To Listen) from Egil Mosbron
11 - Here's the "Real" Fleetwood Mac Playing "Black Magic Woman" in 1974 - (Paste) from Steve Lockwood
12 - Bob Dylan - "House Carpenter" - (Need Some Fun) from Ugur Oral
13 - Mark Cutler - Two Hours To Go - (vimeo) from John Bernstein
14 - Bob Dylan - Darkness At The Break of Noon (1978 Tour Rehearsal) - (YouTube) from Steve Lockwood
15 - DylanHour Thu 21 Dec - (Radio Darmstadt) from Thomas Waldherr
16 - Connections in the moment... - (WPKN) from Eric Cocks
W idely pirated over the years, the 47 performances on the latest of Dylan's Bootleg Series were cut not for release but for his music publishers as guidelines for cover versions. Recorded between 1962 and 1964, they offer a portrait of the young Dylan as prolific songsmith, spraying out numbers that changed pop history such as "The Times They Are a-Changin'", alongside passing cold war satires such as "Talkin' John Birch Paranoid Blues", all delivered in Bob's biting, mid-Western burr. Some songs ended up sidelined, while others, such as the tender "Tomorrow Is a Long Time", became hits for others. Compelling pop archaeology.
Take me on a trip upon your magic swirlin' ship
My senses have been stripped, my hands can't feel to grip
My toes too numb to step
Wait only for my boot heels to be wanderin'
I'm ready to go anywhere, I'm ready for to fade
Into my own parade, cast your dancing spell my way
I promise to go under it
I wrote 'Blowin' in the Wind' in 10 minutes, just put words to an old spiritual, probably something I learned from Carter Family records. That's the folk tradition. You use what's been handed down.
During his Dinkytown days, Zimmerman began introducing himself as "Bob Dylan". [25] [a 1] In his memoir, he said he hit upon using this less common variant for Dillon – a surname he had considered adopting – when he unexpectedly saw some poems by Dylan Thomas . [26] Explaining his change of name in a 2004 interview, Dylan remarked, "You're born, you know, the wrong names, wrong parents. I mean, that happens. You call yourself what you want to call yourself. This is the land of the free." [27]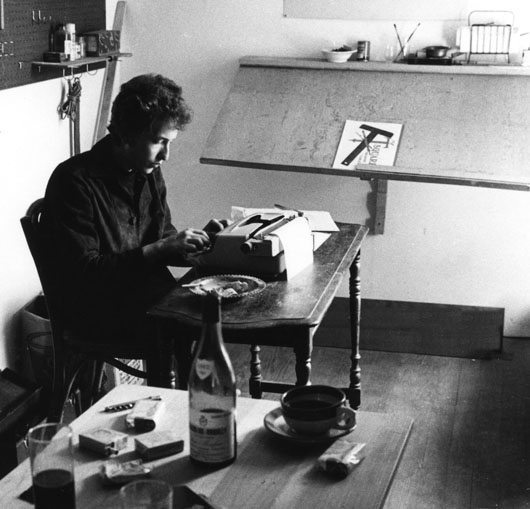 sn.masqueradecostumes.info